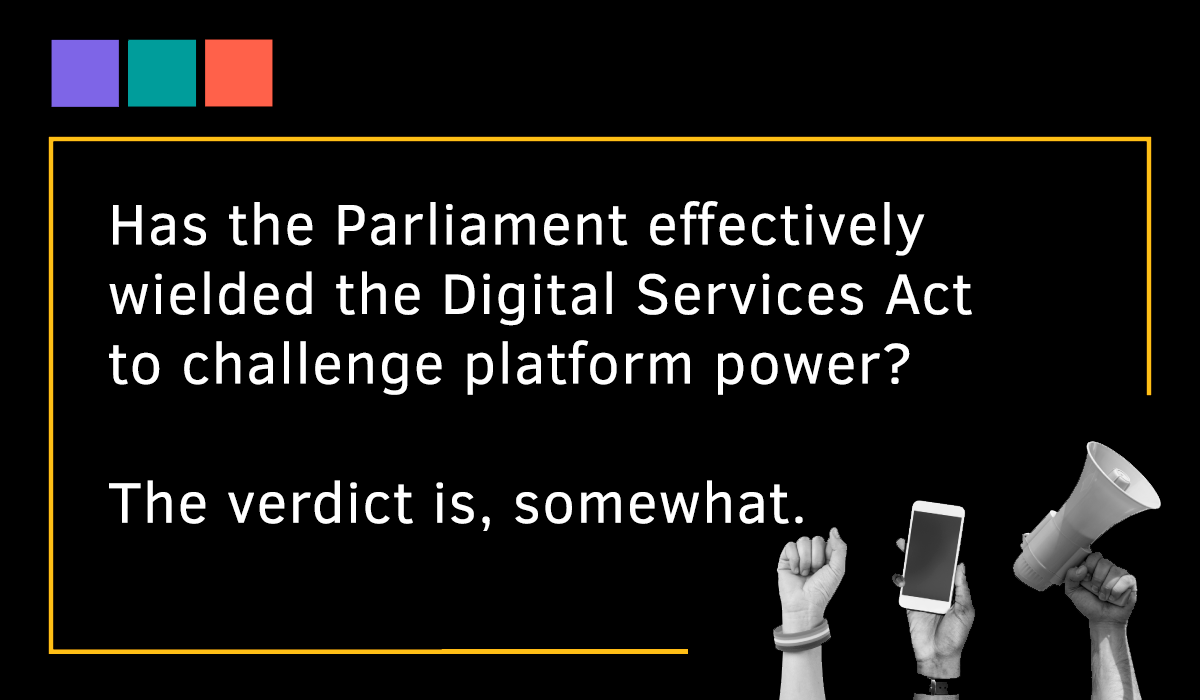 Today, 14th of December, the European Parliament Committee on the Internal Market and Consumer Protection (IMCO) has approved its much-anticipated report on the Digital Services Act (DSA).

The DSA affects how intermediaries like Google and Amazon regulate and influence user activity on their platforms, including people's ability to exercise their rights and freedoms online. The DSA also aims at limiting the negative impact of the most powerful online platforms on people and puts limits on how EU Member States can interfere with people's free expression online.
---
European Digital Rights (EDRi) welcomes IMCO's clear commitment to the cornerstones of EU internet regulation, namely the conditional liability regime for online intermediaries and the prohibition of general monitoring obligations. Conditional liability prevents incentives for platforms to over-remove legitimate online speech for avoiding liability risk, and therefore protects people's freedom of expression.
The prohibition of general monitoring obligations prevents EU Member States from requiring online platforms to scan and unilaterally judge all the information people share online. Those foundations are vital to protect our freedom of expression and access to information in a digital society.
"The IMCO committee has done a good job in fending off some of the worst ideas that had floated around in the negotiations, like short removal timelines for online content or the exemption of online content posted by TV and radio stations from any scrutiny – even if those outlets can spread disinformation or are mere government propaganda tools."
– Jan Penfrat, Senior Policy Advisor at EDRi.
EDRi also welcomes IMCO's decision to add strong protections against the manipulation of people consent online via 'dark patterns' to the DSA and to take a clear position for protecting the overwhelming need of users and businesses for secure end-to-end encryption technology. Dark patterns are user interface designs deliberately built to push users into making a certain choice that they would otherwise never have made, like the way most cookie banners work today.
EDRi is however disappointed by the lack of ambition in regulating surveillance advertising. The surveillance-based business model of dominant technology companies is based on pervasive profiling and on extracting as much personal information from individuals and groups, both online and offline.
An overwhelming majority of experts agree that the best way of protecting people against pervasive surveillance by companies is to ban those right-infringing, manipulative and discriminatory practices in favour of an advertising ecosystem that respects people and the law.
Many small and medium-tech enterprises in Europe, the EDPS, the EDPB, as well as a large coalition of consumer groups, social justice and human rights advocates have pushed for the DSA to better protect Europeans and foster innovation in the online advertising market. Yet, the full might of Big Tech's lobbying apparatus in Brussels eventually prevented any meaningful reform."
– Jan Penfrat, Senior Policy Advisor at EDRi.
The lack of interoperability for recommender systems, that could have enabled concrete alternatives to the current addictive, obsessive engagement-based systems that enable polarisation and disinformation is also disappointing. IMCO missed a real opportunity here for improving people's online experience by giving them control over the kind of content they wish to see and interact with.
Furthermore, we regret the inclusion of mandatory identification on porn platforms which falls short of the need for holistic solutions to online gender-based violence and the publication of non-consensual sexual images. This measure will be detrimental to the rights of sex workers and online content creators. By forcing sex workers to expose their real identities and contact details, it puts these often stigmatised and criminalised communities at risk of hacking and abuse.
EDRi and partners invite anyone who would like to continue to challenge the grip that platforms have over our lives, communities and democracies to join our campaign to take back our power.
Big Tech